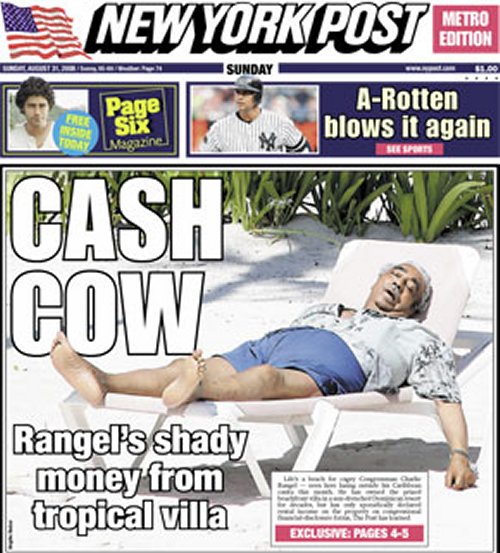 Six Democratic members of Congress enjoyed a Caribbean junket sponsored by Citigroup after Congress had approved the $700 billion bailout of financial services firms in October.
The National Legal and Policy Center, a watchdog group, has asked Neil Barofsky, the Special Inspector General for the Troubled Asset Relief Program, for a formal review of the Citigroup's sponsorship of the trip by House Ways and Means Committee Chairman Charles Rangel and five others.
The NLPC says the trip violated House rules.
The purported purpose of the Nov. 6-9 junket was to attend the Caribbean Multi-Cultural Business Conference on the island of St. Maarten, but "the primary purpose of attending for most participants appeared to be to take a vacation," according to the NLPC, which had a representative at the event.
The NLPC said in a statement: "The 'lead sponsor' was Citigroup, which contributed $100,000. Citigroup was certainly aware that it would be a major recipient of bailout funds. It was also aware that its fortunes had become increasingly reliant on Congressional actions.
"Citigroup should have also been aware that corporate sponsorship of such an event was banned by House rules adopted on March 1, 2007, in response to the [lobbyist Jack] Abramoff scandal and the infamous golf trip to Scotland."
In addition to Rangel, other members of Congress who attended were Donald Payne of New Jersey, Sheila Jackson-Lee of Texas, Carolyn Cheeks Kilpatrick of Michigan, Bennie Thompson of Mississippi, and Donna Christensen, the delegate to the House from the United States Virgin Islands.
Source
© 2009 Newsmax. All rights reserved.